My other Jingle Swap partner was Courtney. She is a
Cajun Hillbilly Housewife.
Here are the wrapped gifts she sent. The paper made me laugh. She numbered the gifts and I opened them in that order.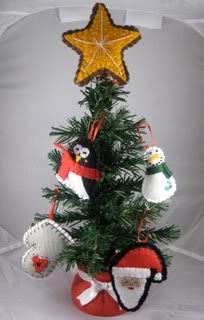 The first package was a fiber optic tree. I promptly found some batteries and lit it up. Package #2 were some felt ornaments that I used to decorate the tree. The star on top was an ornament, but with a little Christmas Magic, got it to stick to the top of the tree.
Then there were some cute Christmas towels, which I have promptly hung in the kitchen. A Christmas (snowman) apron which will come in handy. An adorable Snowman mug, complete with a package of yummy hot chocolate. I will save that for later... Oh and I didn't mention the Snowman clip and gumballs. If you push the button on the snowman, his face changes.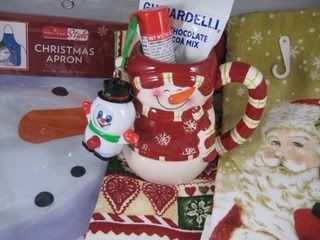 There was also an adorable penguin notebook cover made of felt. Those are pens and pencils inside the pocket. There is a Misfit Doll, I'm not sure what his name will be yet. Three spools of Christmas Ribbon. A crazy quilt cameo purse and some pretty jewelry! I wore the Jewelry to Christmas Dinner already.

Thank you Courtney and Debbie! You both brought great smiles to my Christmas Morning!