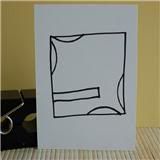 Here is the card I made from it:
The white shiny background is a scrap of wallpaper that I had in my stash for several years.
Everything else is scraps from my stash, too. I love using my stash.
Stay Tuned.... next week I will be participating in the Blogs 4 Boobies Blog Hop by Skipping Stones Designs. I'll be participating in memory of Chris Hertel (Chrispea).